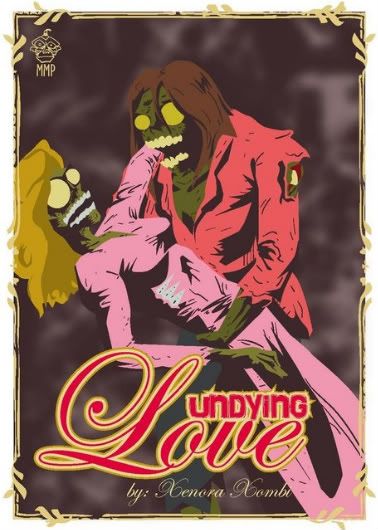 (Image from
here
.)
This is the continuation of a review of
Zombie Moon
, the latest in zombie-themed romance novels.
So, at the end of
Part I
, we paused with our hero and heroine starting on a roadtrip to Texas from somewhere that isn't Texas. Today I want to begin with this wonderful conversation that takes place at a truckstop, when hero Caleb "Lab Cock Lee" Locke realizes that the strong, independent heroine is being attacked by zombies offscreen:

He shoved his laptop into the trucker's hands. "Anything happens to this I'll kill you."

The trucker opened his mouth, but Caleb pulled a knife from his bag and poked the tip of the blade into the man's gut. "Do you believe me?"

The man's eyes shifted to the side. Caleb poked him again. "I don't have time for you to act brave, or think about calling for help. Just know if when I come back, my laptop isn't safe or there's some other unpleasant surprise waiting for me, I'll track you down and leave you in such little bits even the zombies won't bother with you." Then he slipped the knife into his sleeve and sprinted from the restaurant.
Listen, douchebag, in the time it took you to have your little homoerotic knife conversation,
you could have gone after her and killed twelve zombies already
. I guess you don't want to get brain splatters on your 'Hack The Planet' stickers or anything.
( This strange character dichotomy continues. )